Detailed interrogation of the immune system to drive development of vaccine and therapeutic strategies in the context of infectious diseases, cancer, and transplantation.
Work in the Reeves Laboratory investigates mechanisms governing tissue resident immune responses to disease, with particular interest in intracellular pathogens, cancer, and organ transplant. Across projects, we apply deep-immune profiling and computational approaches to gain a more detailed understanding of the interface of the immune system with disease and the levers of effective immune-modulating therapies.
Selective Bcl-2 inhibition promotes hematopoietic chimerism and allograft tolerance without myelosuppression in nonhuman primates.
Sci Transl Med. 2023 Apr 5;15(690):eadd5318. doi: 10.1126/scitranslmed.add5318. Epub 2023 Apr 5. PubMed PMID: 37018417. Dehnadi A, Matsunami M, Raju Paul S, Reeves PM, Hanekamp I, Schwartz S, Colvin RB, Lee H, Spitzer TR.
B cell-dependent subtypes and treatment-based immune correlates to survival in stage 3 and 4 lung adenocarcinomas.
FASEB Bioadv. 2023 Apr;5(4):156-170. doi: 10.1096/fba.2023-00009. eCollection 2023 Apr. PubMed PMID: 37020749; PubMed Central PMCID: PMC10068771. Raju Paul S, Valiev I, Korek SE, Davis CM, Ehli EA, Hung YP, Mino-Kenudson M, Tsiper M, Sluder AE, Reeves PM, Poznansky MC.
Precise reconstruction of the TME using bulk RNA-seq and a machine learning algorithm trained on artificial transcriptomes.
Cancer Cell. 2022 Aug 8;40(8):879-894.e16. doi: 10.1016/j.ccell.2022.07.006. PubMed PMID: 35944503. Zaitsev A, Chelushkin M, Dyikanov D, Cheremushkin I, Paul SR, Davies DL, Reeves PM, Hsieh JJ, Ramachandran A, Cerchietti L, Poznansky MC.
J Trauma Acute Care Surg. 2021 Jun 1;90(6):959- 966. PMID: 33755643 Mendoza AE, Raju Paul S, El Hechi M, Naar L, Nederpelt C, Mikdad S, van Erp I, Hess JM, Velmahos GC, Poznansky M, Reeves P.
FASEB J. 2021 Apr;35(4):e21260. doi: 10.1096/fj.202001273R. PMID: 33715207 Review. Britton C, Poznansky MC, Reeves P.
Sci Rep. 2020 Aug 7;10(1):13311. doi: 10.1038/s41598-020-69327-x. PMID: 32770104 Free PMC article. Reeves PM, Raju Paul S, Baeten L, Korek SE, Yi Y, Hess J, Sobell D, Scholzen A, Garritsen A, De Groot AS, Moise L, Brauns T, Bowen R, Sluder AE, Poznansky MC.
FASEB J. 2020 May;34(5):6027-6037. doi: 10.1096/fj.202000919. Epub 2020 Apr 29. PMID: 32350928 Meyerowitz EA, Vannier AGL, Friesen MGN, Schoenfeld S, Gelfand JA, Callahan MV, Kim AY, Reeves PM, Poznansky MC.
Oncotarget. 2017 Oct 4;8(55):94040-94053. doi: 10.18632/oncotarget.21541. eCollection PMID: 29212208
Reeves PM, Abbaslou MA, Kools FRW, Vutipongsatorn K, Tong X, Gavegnano C, Schinazi RF, Poznansky MC.
FASEB J. 2018 Jan;32(1):5-15. doi: 0.1096/fj.201700325R. Epub 2017 Nov 1. Review. PubMed PMID: 29092906.
Reeves PM, Sluder AE, Paul SR, Scholzen A, Kashiwagi S, Poznansky MC.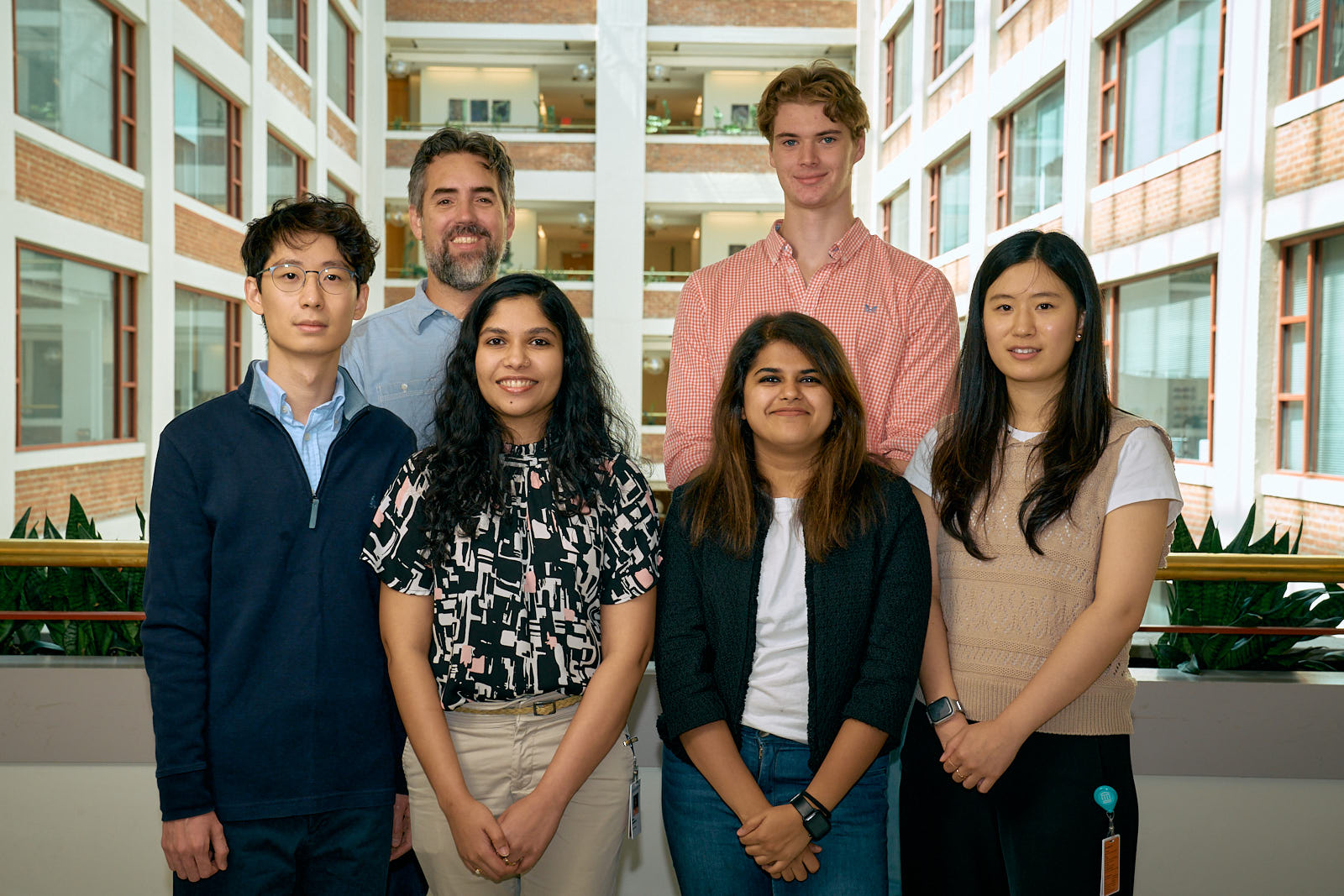 Senior Research Technologist
John Nam, BS, MRes, MD Candidate
Jacob Jennings Smith, PhD Candidate
 
2023 Nanna Sivamanoharan BSc, MSc, MD candidate at Edinburgh University
2018-2021 Josh M. Hess, B.Sc., Emory and Henry College
2021 Maia Pavlovic, B.Sc.
2020 Katarina Ho, B.Sc.
2020-2021 Morgan Friesen, MSC – Univ. of Utrecht (Netherlands)
2015-2019 Susan Raju Paul, MBBS
2017-2019 Yuexiong Yi, MD PhD – Surgeon Zhongnan Hospital
2018-2019 Shengdong Wang, MD – PhD student Zheijang University
2017-2019 Skylar Korek, B.Sc. MD/PhD student, Florida International University
2016-2017 Farah Kools, M.S. PhD Candidate, Utrecht University (Netherlands)
2016 Anita Vorha, B.Sc. Research Associate–Harvard Medical School
2016 Ellie Dunstone, B.Sc. PhD Candidate, Cambridge University (UK)
2016 Carl Pierce, B.Sc. MD/PhD Student, Albert Einstein Medical School
2015-2016 Ottavia Clemente, PhD Pharmaceutical Research Scientist
2015-2016 Xavier Catena, M.S. PhD Student, Spanish National Cancer Center
2015 Kritchai "Jay" Vutipongsatorn, B.Sc. MD Student, Imperial College, London
2015 Jan Orlewsky, M.D. Medical Resident
2014-2016 Mojgan Abbaslou, MD Medical Resident
2014 Samantha Wong, B.Sc. PhD Candidate, Harvard Medical School